Research
Students participating in the computational science program are expected to be involved in research projects with faculty. A key pedagogical step for all computational science students is the application of their computing and math skills to extend their chosen scientific field of expertise. To demonstrate mastery in this area, students are required to complete a senior research project with a faculty member in their chosen field. This work should culminate in a paper and/or presentation of the research suitable for publication in the journals of the discipline. Students interested in getting involved in research earlier than their senior year are certainly encouraged to do so.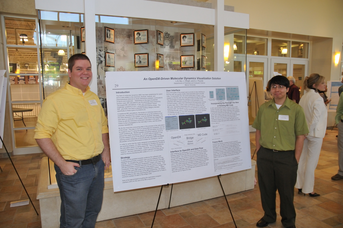 2008 Undergraduate Research Symposium
Students are strongly encouraged to participate in summer undergraduate research programs at the end of their sophomore and junior years. Past students have worked in Alaska analyzing atmospheric ion data, the Minnesota Supercomputing Center, and at the Oak Ridge National Laboratories. Many fully funded opportunities are available for interested students.
One of the keys to a successful REU (Research Experience for Undergraduates) is coordinating with faculty advisors at Mercer so students can find summer programs most suited to their current program of study. To facilite this coordination, students are encouraged to contact their advisors early to help them with not only the choice of REU, but also the application process.